Heaven, to a Colombian, would look like pillows of arepas I'm sure. An ancient mixture of cornmeal and water, arepas are known as the "bread" of Colombian and Venezuelan cuisine.
They eat them with hot chocolate in the morning or with rum in the evening. It's a staple for Colombians- breakfast, lunch, dinner, snack- always arepas.
I did a LIVE Instagram video with Catalina who is from Colombia. It was so special to learn this national dish from a proud Colombian. See her flag in the video. 🇨🇴😍 @rootsartesano .
They are delicious and naturally vegan and gluten-free.
Catalina shared all the great toppings she grew up with. You can top them with beans, cheese, plantains or even honey and chicken. I loved the two kinds we made- one was arepas with toppings on top and the other was cut in half to put toppings inside- the Venezuelan version 😍
So many choices. .
The recipe is so simple but you need to have the right cornmeal- it is
pre-cooked cornmeal
special for Arepas. Find it in a Latin market near you. We used P.A.N brand. You can use the yellow or orange package. The only difference is white or yellow corn.
After you have that, it's easy- just add water and salt and you can make your arepas. Toppings are up to you.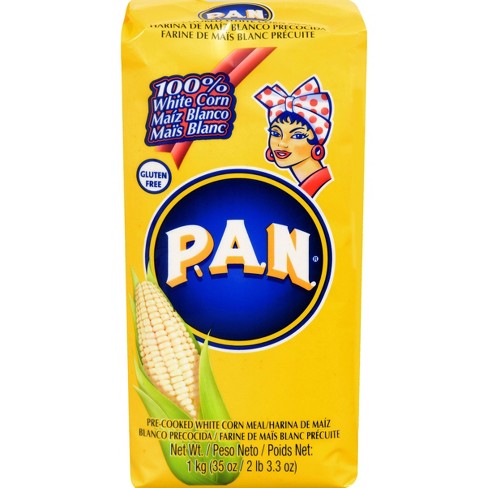 ______
Arepas with Catalina
Ingredients: 
Arepa dough:
(makes about 12 arepas)
2 cups precooked corn flour
½ c cold water (or as needed)
pinch of salt
Topping suggestions: 
Fried plantains*
queso fresco 
Oaxacan cheese 
beans
avocado
cilantro
amzn_assoc_placement = "adunit0"; amzn_assoc_search_bar = "true"; amzn_assoc_tracking_id = "chefjoannas20-20"; amzn_assoc_ad_mode = "manual"; amzn_assoc_ad_type = "smart"; amzn_assoc_marketplace = "amazon"; amzn_assoc_region = "US"; amzn_assoc_title = "My Amazon Picks"; amzn_assoc_linkid = "8e523a8f0750d8db70913e083695a2e8"; amzn_assoc_asins = "B019G23CI4,B004TDB31O,B084G7W9GK,B083ZM1JKX";
Directions: 
1. Mix all arepa dough ingredients in a bowl until you get a dough that forms into a ball. If it is too dry add some more water. It should be moist enough to form a ball easily. If it is too wet, add a little cornflour. 
2. Work dough a little then start to form balls like the size of a golf ball. Flatten with your hands as thin as you can get. Do this by alternating patty on the upper part of your palm, turning it as you go to keep a round shape. It does take practice, and the first one, like pancakes it usually ugly. Its a forgive dough so put it back and try again. Flatten it evenly as best you can.
3. Cook arepas in a pan with coconut oil or cook dry on a comal or hot plate. Start on a higher heat than lower heat to cook through. It could take 10-15 minutes. Turn every couple minutes. You have to taste them to see if they are done. The dough should not be gummy inside. It should be pretty dry.
You can also choose to make stuffed ones. For those, you cut them in half carefully while hot. Then, scoop out any uncooked masa (you can put this uncooked dough into a pot of beans). You will then fill the inside and eat it like a sandwich. 
4. Top with toppings. For the most traditional- just butter. Top with a little salt. 
You can also add sliced avocado, cheese, and plantains. I like avocado-cheese on one and plantain and cheese on the other. Beans and cheese is also nice. Remember to sprinkle a little salt on top. And top with cilantro, too. Serve hot. 
*To fry plantains, cut them on the diagonally in ½" slices. Then, fry in a frying pan with some coconut oil or butter. Turn them when they are golden brown. The more ripe your plantain is, the faster it will cook and brown. It just takes a few minutes. 
5. Storing and reheating. If you don't finish them, place them in a ziploc bag without the toppings. Then reheat arepas from the fridge in a hot pan and butter if desired. Turn often. It should just take a few minutes. Top with fresh toppings.